Finally made it to some stores for tasty food on my list. Some of the stuff was still more than I'm willing to pay, and some of the stuff I want to try and get somewhere else, but I've got quite the little haul now.
I walked, as is starting to seem usual now, and found a whole bunch of stuff in the area I'm willing to walk to that I wasn't expecting, including a small health food/ vitamin store, and a primarily mexican grocer.
I think it's important here to stop for a second and make what might be a silly point.
I am spending more than a dollar a day right now.
I know, silly thing to point out, right? I'm actually doing it on purpose, because with a (somewhat) stocked pantry I don't have to:
walk to the store as often,
buy smaller batches for more, or
figure out what to make with half an onion and some oatmeal.
I don't have everything I want yet, and some of the stuff I bought yesterday I found this afternoon for less- like close to 30% less, but that's learning, right? I know where to buy that item now.
So onto the shopping!
This is from the Mexican grocer. It's for some chili powder and cinnamon. I was also tempted by but didn't get a "box" of adobo sauce.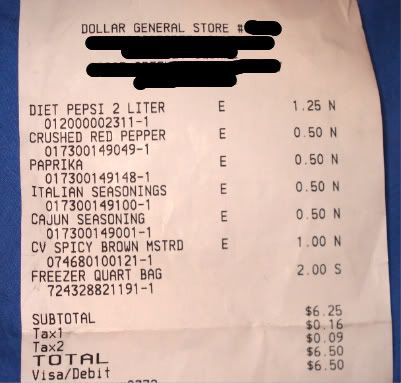 At the dollar store I used my card and got some other stuff as well, only $3.06 of this comes out of my money for the year. I have to replace $4 I used for something else yesterday when I needed cash. Cinnamon was cheaper here, and if I do lots of breakfasty baking, I'll pick up a 50 cent container here next time. I also got mustard, which I use in several recipes, but mostly in a "cheese" recipe I have.
Save a lot I did in two batches
Veggies- a month's worth of onions and (hopefully) carrots, and a good sized cabbage. That's $1.72 (with tax) for monthly veggies, and $0.72 for weekly ones, though I expect the cabbage to last more than a week.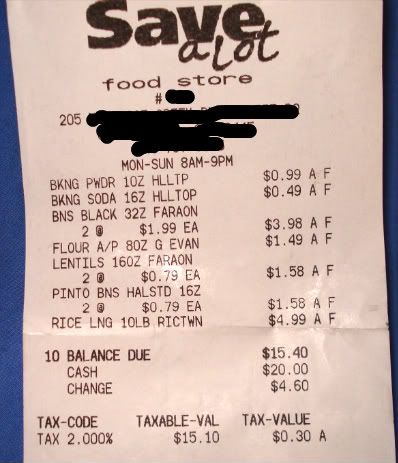 And the main shopping. Wins (relatively) here include 10# of rice for 50 cents a pound, black beans right @ $1/lb, and pintos and lentils for 79 cents a pound. If only I loved pintos and lentils, I'd be rolling in beans. The flour was close to my goal of 25 cents a pound.
This place also had veggie oil for about $2, or almost 80 cents less than I paid last night. Oops.
But now I can cook!!!
So totals for today-
$1.72 for monthly veggies, leaving $3.28 for later
$0.72 for veggies for *this* week, leaving $1.78
$20.96 for staples/ basic stuff
So far I've spent a total of $34.82. Do I think I have a month's worth of food? Except for veggies, I have easily 2 or three months of food, I hope...
Ohh, today so far I've eaten oatmeal-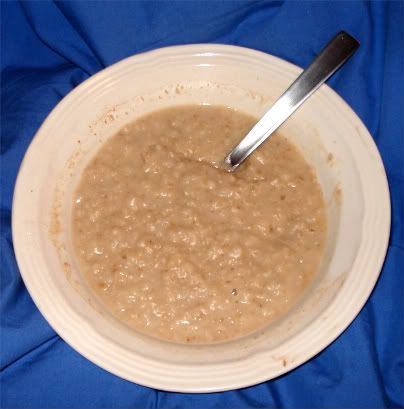 I don't have fruit yet, so I don't think it's going to look any better anytime soon.
1/2C quick oats
1C water
salt
dash of cinnamon
1tsp of silk creamer
1 1/2 tsp sugar (needs more)
1tsp EB
Microwaved to perfect paste consistency. Yum. And for dinner, stir fry!
I'm thinking about putting a countdown ticker thingy in the sidebar. Days and dollars, both going down, I think...
Opinions?