I finished off the fried rice. The texture was better, and the flavors had mixed more. I nommed it fast. I also realized I'd left something out of the recipe! I put in some almond slivers, and I totally forgot. That'll teach me not to post when I'm that tired.
Here's the veggie mix sizzling away-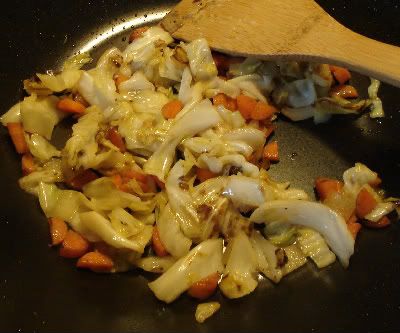 I woke up late, ate lunch, then fell asleep before dinner, so that's it for yesterday. Plans today for all three meals, plus snax, but we'll see how that turns out.
Leftovers
I am a huge fan of leftovers. I love the heat and eat benefit, and the low cost. Sometimes I think about trying once a month cooking, but freezer space and motivation are in short supply here. Plus, most recipes are sized for families, so one month of cooking would land me with enough (of the same 4 or 5) meals for months.
But when a recipe is easy to double, or designed to be four servings- that I love. I can eat what I want the first day, then portion the rest out into reusable plastic tubs or baggies or my (only) re-purposed pasta sauce jar. This is a huge time savings for things that take longer to make (like the
gnocchi
), or that are easiest to make in big batches (like soup).
Just don't try to eat the same thing twice a day until it's gone, you'll come to hate it quickly and you'll either end up throwing it away or never making it again.
Question
I realize a bunch of you are here because you just love food, but there are a lot of you who are interested in saving money, too. Do you want more tips for finding deals, ways to make what you have last longer, substitution ideas? You're getting the food and wacky recipes anyway, but what else would you guys find helpful? Also, I might be able to con a post out of my low-budget, omni eating mom. She works with more of a pantry and about double my budget, would that be of any interest?
Ok, off to finish my breakfast...