hmmm... so for breakfast I had oatmeal (again) but tried something different with the flavor. Instead of the usual- sugar, cinnamon, vanilla- I went with balanced.
I added
1/4C raisins
1T+/- almond slivers, crushed
1 (eating) spoon sugar- not over flowing
dash extra salt.
Probably took the oatmeal from 150 calories up to a more reasonable 400-500. Almost added the soy creamer that is trying to go bad in the fridge, but decided against it. The raisins actually made it *very* sweet, even though I don't normally like them. Probably would have been improved more with some nut butter, but roommate's so is allergic to peanuts, and almond butter is out of my range. Oh well. The almonds were good for crunch, but flavor-wise they didn't add much.
Around lunch time I got "motivated", and used up most of the rest of my (current) bag of flour making dough.

Pizza Dough
2.5C flour (white, wheat, mix- doesn't matter) +extra for kneeding
1C warm water (slightly more if using whole wheat flour)
1-2T oil (I used olive)
1-2tsp yeast (or half/ whole packet)
1tsp sugar (honey, maple syrup, w/e)
1-3tsp salt (I use kosher)
extras I added for flavor
about 1T garlic powder
about 1T "italian" seasoning (this one has parsley, oregano, basil, I think)
Put sugar, yeast, water in a cup off to the side until the yeast softens up and a quick stir makes the mix cloudy. Put the 2.5C flour in a bowl, add salt and extras and mix them in. I keep my flour in the freezer so I usually let it hang out in a sunny or warm spot for a minute at this point- just until it's not freezing anymore. Add the oil and yeast/water to the flour mix, and stir it in with a spoon until the spoon doesn't seem to do anything anymore. Then it's time to get your hands dirty.
Note- you can kneed in the bowl, if it's big enough, and you won't have as much waste, or as much mess to clean up later.
so flour your hands and the dough a bit, and kneed the dough. If it gets tough, walk away for a couple minutes, sometimes even dough needs a break. When it's got that firm/ bouncy texture thing going (still don't get the baby butt thing, but yeah, that) set it aside someplace warm until it's had a chance to rise. oh, and cover it with something so it doesn't get dusty or gross. sometime's i'll also roll the dough ball in oil to keep it from sticking/ drying out.
Note for people living in *cold* places- The best place I've ever found was a shelf next to the heating vent. Next best is on top of the fridge, near the back. Colder temps mean slower rising, so find a warm spot if you want to eat the same day you start.
So for lunch I used half the dough.
Not healthy, but sooo yummy. Make a log out of the dough, then chop it into inch wide strips, so you have a bunch of short, fat caterpillars. Then stretch and twist into ropes. I dipped them in some flavoring, but you don't have to. It was just oil, salt, ital. seasoning. If you have shake cheese, that's good here too, so is fresh chopped garlic. Just mix it all into the oil, then roll the dough in it and put it on the baking sheet.
Baked @ 450*F for 13 minutes. But my oven is forked.
Ate them all, too. Dipped in the last of my Earth Balance, and when that was gone in basalmic/ olive oil. Yum.
Then for dinner I made a Calzone (sorta)
It was as big as my head. Srsly.
Stuffed with tofu ricotta, lightly fried onion, mashed sweet potato, and the last quarter of my tomato. I could only eat half.
So putting this together. First i made the "ricotta". Recipe from
Vegan with a Vengeance
or free at the
Post Punk Kitchen
.
I changed it around a bit- didn't have fresh basil or lemon juice, so I used Italian seasoning and white vinegar instead. It's better with lemon juice. Oh, and I add extra salt. I usually don't use the nutritional yeast and it's just as good so if you don't have it, don't worry.
Then I nuked the sweet potato. Like 5 minutes, flipping halfway through. Peel the skin off and smoosh with a fork. I added salt, garlic, and I think pepper to this. Fried the chopped onions, chopped the tomato while the sweet potato was cooking.
Then I stretched the dough.
you want it to be about the same size/ shape if you cut on the x or the y axis (so if you fold the top down, or the side over the edges match up). You don't want to be trying to close it after it's stuffed. It's a big mess if it breaks. The wholes are tough to close back up.
Layered ricotta, sweet potato, onion, tomato on half the dough,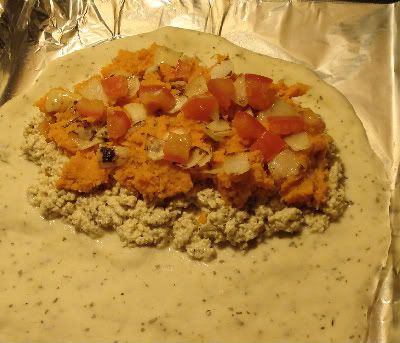 and folded it up- make sure you press the edges together/ roll them over a bit. Oh, and cut slits in the top for steam to escape.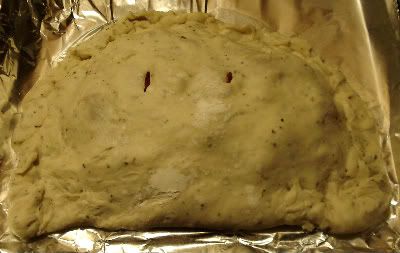 Baked at 450*F for about 18 minutes. It's ready when it looks like this-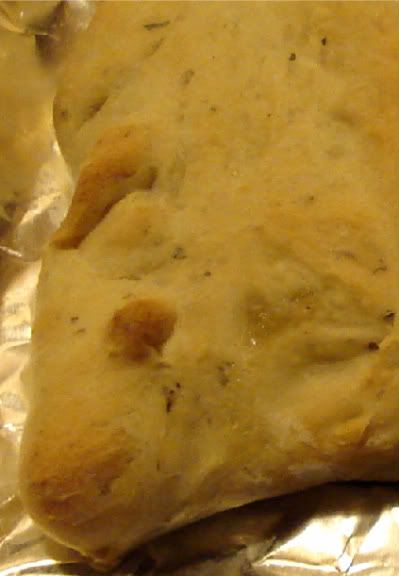 I was going to put the almond cream in it, but I'm glad I didn't. Any more liquid and the dough would be a soggy mess. Like this it was soooo good. The flavors weren't as strange as I feared they would be when they mixed, and it was good and filling. A good change from more "traditional" fillings.
Possible swaps (with the same flavor +/-)
left over squash, smooshed- butternut, acorn. I bet delicata would be great, but who ever has any of that left over. Pumpkin puree if you have some plain (pie filling would taste funny)
ricotta from the store, if you eat it
cottage cheese can sub for ricotta if you find a better deal.
Homemade ricotta or cottage cheese if you have access to really cheap milk (WIC people, I'm looking at you here)
A quick word about buying tofu- At my closest local tofu carrying grocery store they want *$3 a package*. Are they crazy? It's less at the veggie shop, closer to $1.80, which is still high, I think. Small packages at the Asian specific store run from $1.29-1.75-ish, which is more reasonable. But they also have a huge package. 6 pounds huge. It was $5, which is pretty close to the cost of supplies and power to make it at home. And I *hate* making tofu at home.
Deals depend on location of course, but even in the frozen wilds of Wyoming I could regularly find it on sale 4/$5. At Safeway! So check around, even places you expect to be more expensive. they might surprise you.