There are people out there who, for reasons wholly unknown to me, chose to not eat a lot of carbs. I will never be one of those people. I'm sure some of them have results from it that work for them. I'm sure that, somewhere, there's even some sort of reputable, peer-reviewed, reproducible study. You know, all about how carbs are bad for you, are teh devil and rape, pillage, and burn (important order, that...).
I really don't care, though. Carbs taste good. Better than bacon, even. Mostly, though, they're cheap.
So yesterday was a day of tasty carbohydrate overload. With Oil. I made a batch of
pizza dough
(the flour's holding extra moisture, tho, so I ended up using more flour), and I was going to spread it over two days, but that didn't happen.
First, I made a kinda lazy, half assed focaccia.
No rise, just stretched on the baking sheet, a tablespoon or so of olive oil spread over it, sprinkled with kosher salt and Italian seasoning, and baked at 450*F about 15 minutes.
It could have honestly taken about another 5 mintues, it was still damp inside, but wow, was it tasty.
Then for dinner I made a kinda stuffed flatbread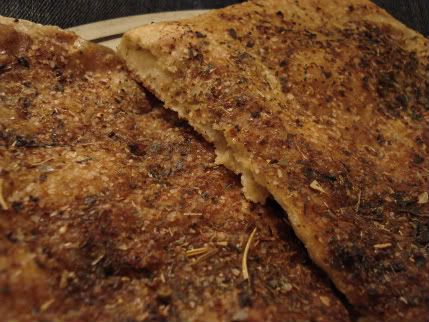 Spread it out super thin on the sheet (I *hate* working with dough as wet as this one was), oil brushed (spread with back of spoon or fingers) over half, then the rest of the Baba Ghanouj spread over that, then the "blank" half of the dough folded over it, pressed along the edges to seal, and topped the same as the one from lunch. Baked the same too, only for about 18 minutes instead.
Now *that* was yummy. Only thing that would have made it all better was a side of fresh fries, with roasted garlic vegan mayo to dip them in.
Totally unrelated- I envy people their pretty tableware. I never want to spend enough time in any one place to make it worthwhile to collect any, and I hate moving any more than I absolutely have to (this past time was a box of books, movies and paperwork, a set of golf clubs, three bags of clothes, and a laptop). But sometimes I really wish I had pretty plates to show off my goofy food. Meh.